2015 was a year of reaching out to more number of children in both the States of Andhra Pradesh and Telangana. At the outset, we acknowledge the generous support given by the Posielek Family Foundation of Rs.1,051,023/- & by Die Sternsingers of Menschwerdung Christi Parish, Nuremberg through Kindermissionswerk, Germany of Rs.350,070/-. Thanks to their generosity, the committed work of our staff and volunteers and the guidance of our Trustees, the Change Foundation could provide, during the year, direct support for 182 students/skill trainees (84% girls), most of them from the most marginalized families.
The bygone year was also blessed with the visit to the project, in March 2015, by eight members of the Fam. Posielek Foundation, meeting students / skill trainees and their families in and around Hyderabad and Vijayawada. In their own words, "We inspected the projects in Vijayawada/Andhra Pradesh and Hyderabad/Telangana that are supported with our donations. We received a hearty welcome during a meeting at the Achim Training Centre (ATC). This was where we met many of the supported students and were able to catch up with their progress. The women of the tailoring classes proudly presented their works and the beauty culture students showed us their skills. Members of the mother societies reported of their latest work. In addition, we visited two tuition centres and were impressed by the discipline of the children. These personal impressions in combination with the exchange of experiences enlarge our views on life and the education of young people in India. It encourages us to keep up the commitment for education, equality and self-determination of every individual."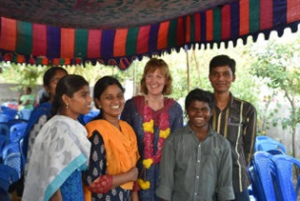 It is awesome to see how their thoughts and impressions that stuck in their minds after the visit, gave a new look to the website of the Posielek Family Foundation. It reflects their commitment, along with other family members, friends and benefactors, to the cause of supporting the marginalized children and their families. They deny themselves the possible luxuries and comforts in life to save resources for the cause. Indeed, your commitment is our inspiration to move on in our world, wallowing in selfishness and extravagance!
The visiting team, led by Mr. Joachim and Dr. Barbara, also donated a wheel chair to Ms. Nagalakshmi, a differently abled girl from the village of Yanamalakuduru in Vijayawada, and thereby facilitating her mobility with the support of her mother much easier. Ms. Nagalakshmi completed her degree and helps the poor children in her village with free evening tuitions.
Educational Scholarship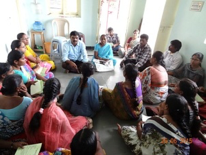 For the academic year 2015 – 2016, the education scholarship was disbursed, mostly in July and August, to 74 students to pursue their higher education. It was done after due screening process and in consultation with the heads and members/village elders of the Women Societies, and in many case, with due recommendation from the respective organization's head and staff, as is the case with the Karunalaya in Warangal and Cheyutha Mahila Society in Hyderabad.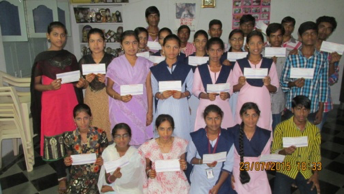 State wise, in the academic year 2015-16, the educational scholarships were given to 42 students in Telangana. This includes 25 students from Karunalaya in Warangal: 25 & 11 from Cheyutha Mahila Society and 6 others, in Hyderabad).
Dr. Spandhana completed her MBBS and is now doing her internship which will be completed by the end of March 2016. She has written entrance exam for the PG course and is awaiting the result.
Dr. Karunakar, a student of Medicine, also differently abled, supported in the previous academic year 2014-15, and who is now completing his internship also wrote the PG entrance test.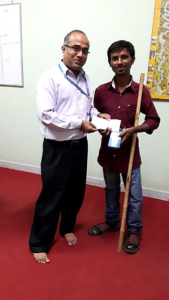 Mr. Krishna Naik, is now in his 3rd year of MBBS, a differently abled and studying at Osmania Medical College at Hyderabad. He was also supported by the Catholic Health Association of India (CHAI).
Akil Jadhav is now doing his six-month internship after completing his Engineering. He has go placement, in campus recruitment, at Tata Consultancy Services, a renowned corporate.
Sandep, a differently abled, is his 3rd year B. Tech, and he has secure 75% in his 2nd year.
In the academic year 2015-16, 35 students from Andhra Pradesh received education scholarships, including 27 from the villages of Vanukuru, Gosala and Davaluru in Krishna district, and 2 from Gutur district, and 3 from Navajeevan Bala Bhavan, Vijayawada.
Sangheetha Roy, an inmate of Navajeevan, currently in the fourth and final year of Bachelors in Pharmacy, scored 80% in 3rd year, won laurels in various extra extracurricular activities, is the topper in her college. She intends to pursue post graduation in Pharmacy.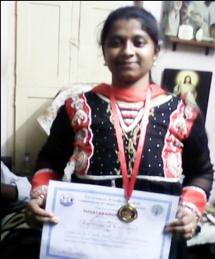 Divya Priya is in the 3rd and final year of Polytechnic, scored 97% in 3rd year, is the topper in her college. She has also won awards in various extracurricular activities, recently being the first in State level essay competition. She wants to join directly 2nd year of Engineering. Currently, she is preparing for the entrance exams.
Venkata Chaithanya joined directly for engineering, after remarkably completing his Polytechnic last year.
Nagaraj Pere, a Navajeevan boy, joined Engineering 1st year after his Intermediate.
This apart, the three Women Societies (Mother Theresa & Pragathi & Chiguru), constituted of the mothers of the students, supported in the past with the generous funds from the members and friends of Posielek Fam. Foundation and from the Menschwerdung Christi parish (Die Sternsingers/Kindermissionswerk) could support 54 students during the academic year 2015-16, with a total amount of Rs.292,000/-.
As communicated in our previous reports, the three Women Societies have created their own Revolving Funds out of the small but voluntary contributions received back from many of the families of the students which the Foundation supported in the past. These families are motivated to contribute back their mite to support other students. Out of these Revolving Funds, these three Women Societies continue to support many more students. That means the support that these students received from you all, never ends with them, but continue to revolve helping many more students in future.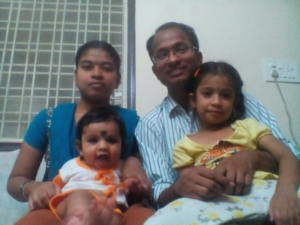 With the support of the Posielek Foundation, Rama Koteswara Rao Dandu belonging to a marginalized family and a former Navajeevan inmate in Vijayawada, completed successfully his Post Graduation in Chemistry. Currently he is working in a Pharmaceutical company (Aurobindo Pharma), near Hyderabad, as a Senior Executive in Quality Assurance Department. He wrote recently, "I am very much grateful to Navajeevan Bhalabhavan for the care and education given to me. I am also much thankful to Joachim Posielek uncle and his family for recognizing my talent and for supporting me to pursue my education in intermediate. Your support helped me to be what I am today!" He married Jyothi and they are blessed with two children.
We take this opportunity to thank once again all the family members, friends and benefactors of Fam. Posielek Foundation and the by Die Sternsingers of Menschwerdung Christi Parish, Nuremberg through Kindermissionswerk, Germany.
Unlike many others, Santhosh was only happy to share his expereince in life. He was a former Navajeevan home for street children, lost his left arm and knee down of his right leg, when he was young, on one of his adolescent adventures on a running train. Presently, Santhosh is the programme manager of a Don Bosco project in Warangal, resuing and rehabilitating street and working. For him, it is life of giving back! His story in his own words, "Hi Joachim Uncle …. A few lines to express my gratitude for supporting me to do my masters in Social Work, which I completed with first rank, winning the gold medal. Today I am pursuing my Ph. D. in human rights at Hyderabad Central University, besides my work with the deprived children. I am married to Sunitha and we are blessed with two children. Recently we could build our own small but beautiful house. I am proud to note that we are also helping a college student. He is staying with us as our elder son. I would like to request my friends who receive support from the Foundation that some point of time you have to give back by supporting other needy children. My heartfelt thanks to all the supporters of the Foundation! You gave us strength to live out strength!"
Evening Tuition Centres (ETCs)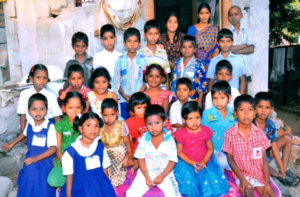 The whole strategy behind ETCs is to support the school going children, belonging to the marginalized families, in their studies after school hours. Rather than a mere project activity, the parents and children along with community elders realized that it is their need! The teacher at ETC provides space in her own house to conduct ETCs. Each of the seven ETCs is having 20 to 25 children. The launching of ETCs in other areas, especially under Cheyutha in Hyderabad is in the process.
Skill Trainings
During the reporting year 2015, we could extend support to 58 trainees to complete their skills training in tailoring and fabric Painting (23) & beauty culture (35).
Out of the 35 trainees joined for beauty culture during the reporting year 2015, 23 have already completed their training, and 16 are now earning extra income to their families, between Rs.3,000/- to Rs.10,000/-, supporting the education and health of the children in their families. Of th2 23 who completed the training, 9 got employed in other beauty parlors; 3 of them are self-employed, earning income by way of visiting the families with their beauty culture kits; 1 started her own beauty parlor and 3 combined together to form a mobile beauty culture unit and carry out the orders they get for marriages and other functions. Twelve are yet to complete the training.
Most of the trainees who completed the skill training in tailoring and fabric Painting in the past, mostly self employed working on their own sewing machines at home, now earn Rs.3,000/- to 7,000/- a month, and thereby, substantially supporting their families and their own children.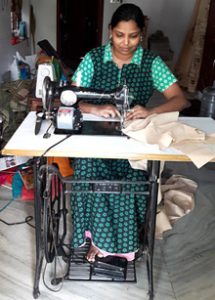 Padma, 35 years, married, having 2 children, used to distribute monthly Govt. old age pension to the elderly in their village, used to earn from the village office around d Rs.2,500/- a month. She resigned that job, and completed the training in tailoring, and bought a sewing machine and started to take stitching orders from her neighbors, and she earns Rs.7,000/- minimum a month.
Sh. Dushad, 18 years, bought her own sewing machine and started to earn Rs.4,000/- a month, and she now supports her brother to pursue technical education in the local ITI.
Likewise, D. Sumithra, 32 years, mother of two girl children, earns Rs.5,000/- a month and supports the education of her children.
Usha Rani, 30 years, mother of three girl children, earns Rs.4,000/- a month and support her daughters' education and other needs.
V. Josna, 27 years, mother of two children, earns Rs.6,000/- a month by carrying out the stitching orders of her neighbors.
M. Chaitanya, 35 years, with one child, earns around Rs.4,000/- by undertaking orders of fabric painting, mainly on sarees.
Thoughts that contributed to the newly developed logo of the Posielek Family Foundation, as the members themselves explained, are to equip young people with the skills and tools to help themselves, individuals and small groups, uniting the donors with recipients as active agents of their own positive change, with donors helping them to acquire information and skills to be self-reliant and responsible for their own lives but with the spirit of revolving and replicating the support they received by supporting others in future to be on their feet. This is the very spirit inculcated and nurtured by Mr. Joachim Posielek, the visionary behind both the Donor and the Recipient: Posielek Family Foundation in Nuremberg, Germany & Change Foundation in Vijayawada, India.
Dear Achim, we all assure you that we will ever abide by your spirit!
Once again, our heartfelt gratitude to the members and friends of the Fam. Posielek Foundation – above all to Mr. Joachim and Mrs. Joanna Posielek, our Inspiration down the years & to the children (Die Sternsingers / Kindermissionswerk) and the elders of the Menschwerdung Christi Parish, Nuremberg, Germany!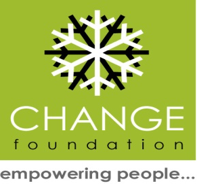 Your support and generosity of heart make us move forward in our endeavor of reaching the unreached!