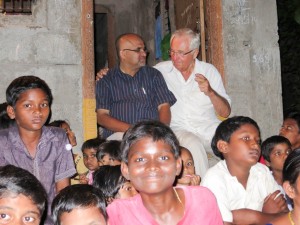 There are members from three generations of the family Posielek: Joachim, Johanna, Thaddäus, Damian, Barbara, Kathrin, Janina, Felix, Fabian, Tobias, Arnold, Gerhard, Sebastian, and Robert.
Initiator and honorary president: Joachim Posielek
Management: Barbara und Damian Posielek
In cooperation with Change Foundation in Vijayawada (Andhra Pradesh, Indien), under the direction of Anto and Seena Maliekal
Brief history
In 1990, Joachim Posielek and Dr. Anto Maliekal, from Kerala in India, met for the first time. Anto, then a Catholic priest, was temporarily working in Germany with Thaddäus Posielek, the son of Joachim. After leaving the priesthood, Anto was supported by the Posielek family to complete his doctorate in political philosophy. In 1997, Anto went back to India and joined the Navajeevan Bala Bhavan project for street children and child workers in Vijayawada, Andhra Pradesh, which is run by the Salesians of Don Bosco in Germany. When Joachim and other members of the Posielek family visited Anto at this project in 1998, they had the first hand experience of the plight of street children and child workers. It was the turning point when the seed of Fam. Posielek Foundation sprouted in Joachim's mind to support the education of children. The Fam. Posielek Stiftung was founded in 2002. The registered office is in Nürnberg, Germany supervised by the administration Mittelfranken in Ansbach.
The foundation started with the support of rescued street children and child workers at the Don Bosco project in Vijayawada. Today, the Fam. Posielek Foundation, with its three generations of family members and their friends in Germany, supported more than 2000 children. Especially female students from poor families receive support to settle their lives through professional education and skills trainings. Though Anto left Navajeevan, he and his wife Seena continued to support students through the Fam. Posielek Foundation.
At Joachim's behest and guidance, Anto and Seena founded the 'Change Foundation Trust' in 2006 as the counterpart organization to the Fam. Posielek Foundation. The Change Foundation extends the support with three 'Women Societies': Mother Theresa, Pragathi, and Chiguru. These three groups consist of mothers of students who received support from the Foundation. The three Women Societies have created their own revolving funds out of the voluntary contributions received back from many families of the students which the foundation supported in the past. From these revolving funds, the Women Societies continue to give small education loans to many more students. That means the support that students received from the Fam. Posielek Foundation, never ends with them, but continues to revolve helping many more students in the future.
Logo of the Fam. Posielek Foundation

Thoughts, that contributed to the developed logo:
Equip young people with the skills and tools to help themselves
We support individuals and small groups
We are many donators while there are many receivers that shall be strengthened.
Provide education for young people to support their independence and self-reliance.
(Monetary) service for motivated students
Trigger one's own initiative and responsibility
Pyramid scheme: who got supported, helps and supports others afterwards