Our partners, including the three women societies (Mother Theresa & Pragathi & Chiguru in Vijayawada), Navajeevan Bala Bhavan, Vijayawada in Andhra Pradesh, Karunalaya in Warangal, Cheyutha in Hyderabad, Krupa Bhavan in Karimnagar and 'Raksha' – the social action wing of Amala Province of the congregation of Daughters of Mary in Chanda, Maharashtra, the Change Foundation could reach many more disadvantaged children and youth with the support of Posielek Foundation and Die Sternsinger (Kindermissionswerk) of Menschwerdung Christi Parish, Nuremberg through, Germany.
Thanks to their generosity, the committed work of our partner organizations and volunteers and the guidance of our Trustees, the Change Foundation could provide, during the year, direct support for 161 students/skill trainees (128 girls – 80% & 33 boys – 20%), most of them from the most marginalized families.
Education Scholarship
For the academic year 2016 – 2017, the education scholarship was disbursed, mostly in August, to 74 students (52 girls & 22 boys) to pursue their higher education. The students for the education scholarship was selected after due screening process and in
consultation with the heads and members/village elders of the Women Societies, and in many case, with due recommendation from the respective organization's head and staff, as is the case
with the Karunalaya in Warangal, Cheyutha Mahila Society in Hyderabad, Raksha in Chanda and Krupa Bhavan in Karimnagar.
State wise, in the academic year 2016-17, the educational scholarships were given to 47 students in Telangana. This includes 27 students from Karunalaya & 13 from Cheyutha Mahila Society, 4 from Krupa Bhavan and 3 others in Hyderabad. Four students supported were from Maharashtra including 3 from Raksha and 23 students were from Vijayawada in Andhra Pradesh.
These students apart, the three Women Societies (Mother Theresa & Pragathi & Chiguru), constituted of the mothers of the students who were supported in the past, could support 29 students during the academic year 2016-17. The Foundation and the women societies together thus helped a total of 103 students
(68% girls and 32% boys) to pursue higher education after 10th class.
Skill Training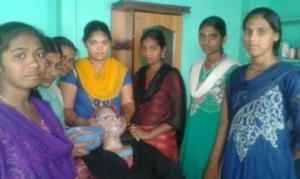 During the reporting year 2016, we could extend support to 58 female trainees to complete their skills training in tailoring and fabric Painting (22) in 2 batches & beauty culture (36) in 3 batches.
Shift of Operational Areas
In October 2016, we have stopped the skill training in tailoring at 'Achim Training Centre' (ATC) in Vanakuru village as not many are coming to the course as we had conducted a number of batches since 2009. The launch of skill training in tailoring at a new place is in the process where the most marginalized and vulnerable girls and young mothers will benefit most. This is also the case with the education scholarships and the organizing of Evening Tuition Centres (ETCs). Gradually, we are selecting students from other states and geographical areas who are the neediest when compared to the existing areas in and around Vijayawada where the Foundation started its operations directly in 2006, and indirectly since 1998 in collaboration with Navajeevan Bala Bhavan and Apple Society in Vijayawada. In shifting the operational areas, the main objective is to ensure the judicious utilization of funds by reaching the neediest beneficiaries. We intend to launch skills trainings and ETCs in new areas by the end of the first quarter of the year 2017.
Evening Tuition Centres (ETCs)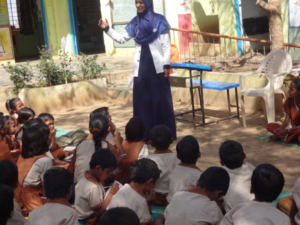 Since the month of December 2016, we have been supporting Sisters of Daughters of Mary of Amala Province in Chanda, Maharastra, through project RAKSHA, to organize 5 ETCs at Durgapur for the slum children at their school premises and Shengaon of Manikgarh hills at their hospital premises, mostly belong to the most marginalized dalit and tribal families.
Apart from tuition support after school hours, the ETCs are also conducting motivational sessions periodically both for children and their parents.
Five staff and sisters are assigned to help children in their studies, especially in English, Mathematics and science subjects, after school hours. These ETCs help retaining the children, especially the girls, without dropping out from the regular school stream. Many of these children are formerly school drop-outs. ETCs bring in also the opportunity to make the children aware of health and hygiene and train them in life skills. At present, over 75 students are regularly attending these three CTCs.
Worth the Candle
The following are some of the success stories of students supported in the past with education scholarship or girls/mothers/boys trained in computer applications, tailoring or beauty culture. Their stories prove that the support given is worth the candle as they now earn a livelihood/extra family income with the skills they acquired.

Dr. K. Spandhana, after completing her MBBS last year, works in a Mission Hospital in Telangana State, rendering health services to the marginalized communities. She prepares now for entrance test to get admission to PG course. Along with her, Change Foundation takes this opportunity to thank Wolfgang and Gabriele von Entress-Fuersteneck and Fam. Posielek Foundation for the support given for her studies for the last 6 years.
Battagunta Sowjanya works as a data entry operator with PVP Square Mall in Vijayawada.
D. Rajesh, after completing MBA in 2014, works with Capital First Finance as credit review officer.
Navakranthi Gogulamudi, works as a sales executive with Idea Network in Vijayawada after completing M.B.A in 2014.
Soni Gogulamudi works as a data entry operator, PVP Square Mall in Vijayawada.
Kaile Dhora babu works as an sales executive with Capital First Finance.
Kancharla Vinod Kumar works as an sales executive with Godrej in Hyderabad after completing MBA in 2014.
Lakshmi after completing B.Com (Computers) works as teacher in a primary school.
Naveen Kumar, after training in computer application, works in JC Graphics in Vijayawada.
Sailaja works in Time Hospital after completing her course in nursing.
Naveen Kumar Satuluri works as an sales executive in Edible Oils & Fats in Vijayawada after completing MBA in 2014.
Ramya started own beauty parlor after her training in Beauty Culture.
Jyothi after completing training in Beauty Culture works in Colors Parlor in Vijayawada.
Arifa and Rajia after completing training in Beauty Culture work in Nimbuls Cosmetic World in Vijayawada.
Badugu Vidya Sagar studies his 3rd year BDS (Dentist).
Spandhana David studies 3rd yr. Pharm. D. (Doctor of Pharmacy).
Snagheetha Roy studies 1st yr. Pharm. D. (Doctor of Pharmacy).
Sandeep Nagula, differently abled, studies 4th year Engineering (CSE).
Krishna Naik, differently abled, completed 4th yr. MBBS, starts internship in April 2017.
One again, we remember with heartfelt gratitude and appreciation, Mr. Joachim, our Founder and Guiding Spirit, Mrs. Joanna Posielek and their family members and friends, and the Parish Priest and the elders of Menschwerdung Christi Parish Community and their children (Die Sternsinger/Kindermissionswerk) for their generous support for us to reach the unreached!