2014 was a year of blessing that the Foundation could extend, apart from Vijayawada, its activities to Hyderabad and Warangal in the newly carved out Telangana State from the erstwhile Andhra Pradesh. We, the Trustees, Children and Staff at the Change Foundation, take this opportunity to express our heartfelt thanks to the children (Die Sternsinger) of the Menschwerdung Christi parish and their elders & the Members of the Fam. Posielek Foundation & the Team at Kindermissionswerk for supporting us in 2014.
Education Scholarships
During the academic year 2014 – 15, the Foundation could extend education scholarships directly to 44 students. This includes 15 old students and 29 new students. Among the new students 12 are from Warangal and 17 are from Hyderabad in Telangana State. The new students include 2 students (physically challenged) of Medicine, one student of 1st year M. Tech., one 3rd year student of Engineering and one 1st year student for B. Pharm. Most of the new students are either orphans or semi-orphans. Many of them are affected or infected by HIV/AIDS and are taken care of by Karunalaya in Warangal & Cheyutha in Hyderabad. We take this opportunity to thank Rev. Fr. Jyothish and his team at Karunalaya & Ms. Priya and her team at Cheyutha who do committed and unconditional service to these children and their families.
We expresse our heartfelt thanks to Ms. Priya and her team whose organization Cheyutha (meaning helping hands), located 20 kms away from Hyderabad, started partnering with the Foundation. Nine children, mostly orphaned by AIDS, were provided with education support during the current academic year. It was indeed a timely education support to these children who were anxious about continuing their education due to severe financial constraints. In Ms. Priya's own words, "Thanks to the support given by the Foundation, we paid their fee visiting their schools. Now our children can go to school with self respect and with no hurdles." The case is same with children we supported under Karunalaya in Warangal, 150 kms away from Hyderabad.
Ms. Priya, through her Women Society, reaches hundreds of women with HIV+, most of them got infected by their spouses. It is heartening to know that, apart from her daughter, Priya has to take care of her two brothers too who are severely handicapped and her aged mother.
While acknowledging the support from the Foundation, Cheyutha team wrote in its half yearly report to the Foundation, "the task is huge, as we believe that for a real change to take place, everyone from our society should take responsibility of changing the lives of these vulnerable children. With the support from the Menschwerdung Christi and the Fam. Posielek Foundation, the Change Foundation has made noble attempts to educate the underprivileged children at Cheyutha. This noble act has created a new beginning for all these children who had dreamed to go to school and college."
Apart from the 44 students who received education scholarship from the Foundation directly in 2014, the Women Societies, located at Vijayawada and technically facilitated by the Foundation, continued to render support for the students. This year too, the three Women Societies (constituted of the mothers of the students, supported with funds received from the Menschwerdung Christi and the Fam. Posielek Foundation) could provide Education loans, with a nominal interest rate, to over 70 students (Mother Theresa: 23 students with Rs.106,000/- & Pragathi: 35 with Rs.160,000/- & Chiguru: 14 with Rs.86,000/-). As mentioned in our earlier reports, these three Women Societies have created Revolving Funds out of the small contributions received back from many of the families of the students which the Foundation supported in the past. That means the support that the children at Menschwerdung Christi and the members of the Fam. Posielek Foundation give to these students through the Change Foundation never ends with those students, but continue to revolve helping many more students in future. We also take this opportunity to thank Mr. T. Nagaraj & Mr. Ch. Rajkumar & Mr. Malleswara Rao who provide technical support to the Foundation at Vijayawada in screening new students, following up old students, facilitating the Women Societies, maintaining accounts and bank transactions.
During the year, covering 5 villages (Vanukuru, Edupukalu, Gosala, Davulluru, Royuru and Godavaru) 7 evening tuition centres were organized, after school hours, in six villages for over 150 children belonging to marginalized dalit families, mostly girls.
Also, 84 unmarried girls and young mothers were given skill trainings in beauty culture, tailoring, saree-painting and embroidery, which helped many of them to earn extra income towards their livelihood and education of their children.
India has one of the highest tuberculosis (TB) burdens globally, accounting for 20% of the new 8.6 million TB cases annually. According to WHO, Paediatric TB is among the top 10 causes of death among children worldwide. Childhood TB accounts for 6% to 10% of all TB cases worldwide and in countries like India, with a high rate of TB disease, children account for as much as 40% of all new TB cases. In spite of this fact, children with TB are given low priority in most national health programs and are neglected. Many of the cases not detected in time. In detected cases, proper follow-up is not given for treatment adherence and continuum of care. Acute under-nutrition along with treatment fatigue makes the survival of the children suffering from TB worse and fatal.
Responding to the situation, in collaboration with the Catholic Health Association of India, the Foundation with the support of Rs.60,945/- received from Mr. Joachim and Mrs. Joanna Posielek (the Founders of the Fam. Posielek Foundation), helped 120 children infected by TB with nutrition kit. These children and their families are identified and being assisted by Asha Jyothi Community Care Centre – Medak District in Telangana State. Five camps were organized by Asha Jyothi Community Care Centre to distribute the nutrition kit to the TB infected children. One was organized in Pregnapur in the premises of Asha Jyothi where 28 children received the nutrition kit. The second one was organized in Sangareddy; 33 children came to receive the nutrition kit. In the third camp at Zaheerabad 26 children received the nutrition kit. The fourth camp was organized at Narayankhed and 17 children received the packages and the last one was in Medak wherein 16 children were the recipients of the nutrition kit.
Outstanding Students & Trainees
K. Spandhana, a student of Medicine is always an inspiration to other students and their families supported by the Foundation. Thanks to the support of V. Entress, She will complete her fourth and final year of MBBS by March 2015.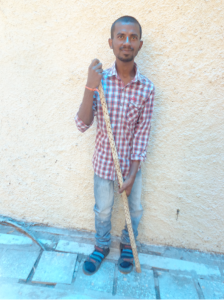 Mudavath Krishna Nayak, pursuing 2nd year of MBBS, belongs to Lambada tribe and hails from a remote village of Tribal agency area Chandrabanda thanda, Mahabubnagar, Telangana State. Krishna is a physically challenged youngster, affected by polio when he was nine months old. His parents are illiterate and small farmers cum daily coolies. He is the eldest of the four siblings. Supported by the Catholic Health Association of India, Krishna completed 10th standard with 86% and intermediate with 81%. The Foundation started to support him for his studies in 2014 in his 2nd year of MBBS.

Gali Divya Priya, a semi-orphan, hailing from Penamalur in Vijayawada, is being supported by the Foundation for pursuing her 2nd year of Polytechnic education (ECE). Divya Priya completed her 10th class with 97% marks and 1st year of Polytechnic with 97.3%. Her father – Hrudhayaraju – died years ago. She has a sister. Her inspiration is her mother Sujatha, the sole bread winner and a social worker under Navajeevan – Vijayawada, rescuing hundreds of child labourers.
Bantumilli Durga is a 17 years old girl from Autonagar, Industrial Estate of Vijayawada. Her father left the family at her tender age and never returned. They assume that he is no more. Her mother too died of illness. She is having one elder sister Parvathi. At age of 6, Durga was kept as a child labour in a house. She was rescued by the field staff of Navajeevan Bala Bhavan. Her sister was referred to another NGO – Care & Share in Vijayawada where at present she is studying final year of polytechnic. After rescue, Durga pursued her education and successfully completed 10th class with 88% marks at Lurdh Matha High School, Thallada; Intermediate education with BiPC (Botany, Zoology, Physics and Chemistry) with 83% at Jyothi College, Hanuman Junction. She was the topper in the school and the college. After qualifying in the entrance (EAMCET) exam with a high rank, she got admission in B. Pharmacy course on merit basis. She pursues her 1st year of B. Pharm. She keeps the fire in her heart to advocate the rights of the most vulnerable and marginalized girl children, vividly remembering her past life as a domestic child labourer.

Hailing from Narasihmulagedem, a remote village in Warangal District of Telangana State, Karunakar is a 20 years old boy, suffering from left leg paralysis. He belongs to a Dalit family and his parents are daily laborers. With his hard work and determination, Karunakar completed his 10th class and Intermediate education with 91% marks. Karunakar is now a student of Medicine, and the Foundation supported him 2014 for his fourth and final year of MBBS.
Sangeetha Roy hails from Vijayawada. Her parents died of illness. After the death of her parents, her grandmother was no more interested in the care of Sangeetha. At the request of her paternal aunt, the Child Welfare Committee of Krishna district referred Sangeetha to Navajeevan Bala Bhavan for care and protection. A hardworking and highly intelligent girl, she completed her 10th class with 90% at Don Bosco High School, Wyra and Intermediate with 90%, and without any special coaching, she passed the entrance (EAMCET) exam with a high rank. At the moment, thanks to the support given by Ms. Brigitte Posielek, Sangeetha pursues her 3rd year of B. Pharm at K.L.R. Pharmacy College at Paloncha in Khammam District of Telangana State. She has secured 81.5% in her 2nd year of B. Pharm. After completing B. Pharm in 2016, Sangeetha wants to pursue her Masters in Pharmacy. She always finds time to support other girl children in their studies and wants to advocate the rights of the marginalized children, following Rev. Fr. Thomas Koshy, her role model and mentor.
Acquiring Skills in Beauty Culture Currently Fetches Gainful Employment
After successfully completing her training in beauty culture, Karthikal, a young mother with a 4 year old child, started her own beauty parlour unit at home. She also visits families with her beautician kit. She earns more than Rs.4,000/- as extra income to her family. Rahmatha, a young mother with a 10 year old child, earns Rs.3,000/- minimum a month working as beautician at Om Sai Parlour in Ajitsinghnagar, Vijayawada. Ambika earns Rs.4,000/- a month working in Sreyana Parlour at Ramakrishnapuram. Varalakshmi, a nineteen year old unmarried girl too earns around the same amount working in Ramya parlour at Satynarayanapuram in Vijayawada. Yashoda, a young married woman, fetches Rs.5,000/- working in Plaza Beuty parlour at Gosala. Sneha, an unmarried girl with three sisters, hails from Vanukuru, and earns Rs.10,000/- a month working as beautician in Mirror beauty parlour at Mangalagiri, near to Vijayawada. Amala, a young widow with three children, manages her family with Rs.4,000/- that she gets as beautician.
The young mothers and unmarried girls who underwent training in tailoring and saree-painting too earn substantial extra income to their families either as self-employed at home, taking orders from the neighbours to stitch clothes or employed in garment making units. It is not the lack of job opportunities but the unwillingness of the parents and elders to send the girls after training for jobs that often becomes a great hurdle.